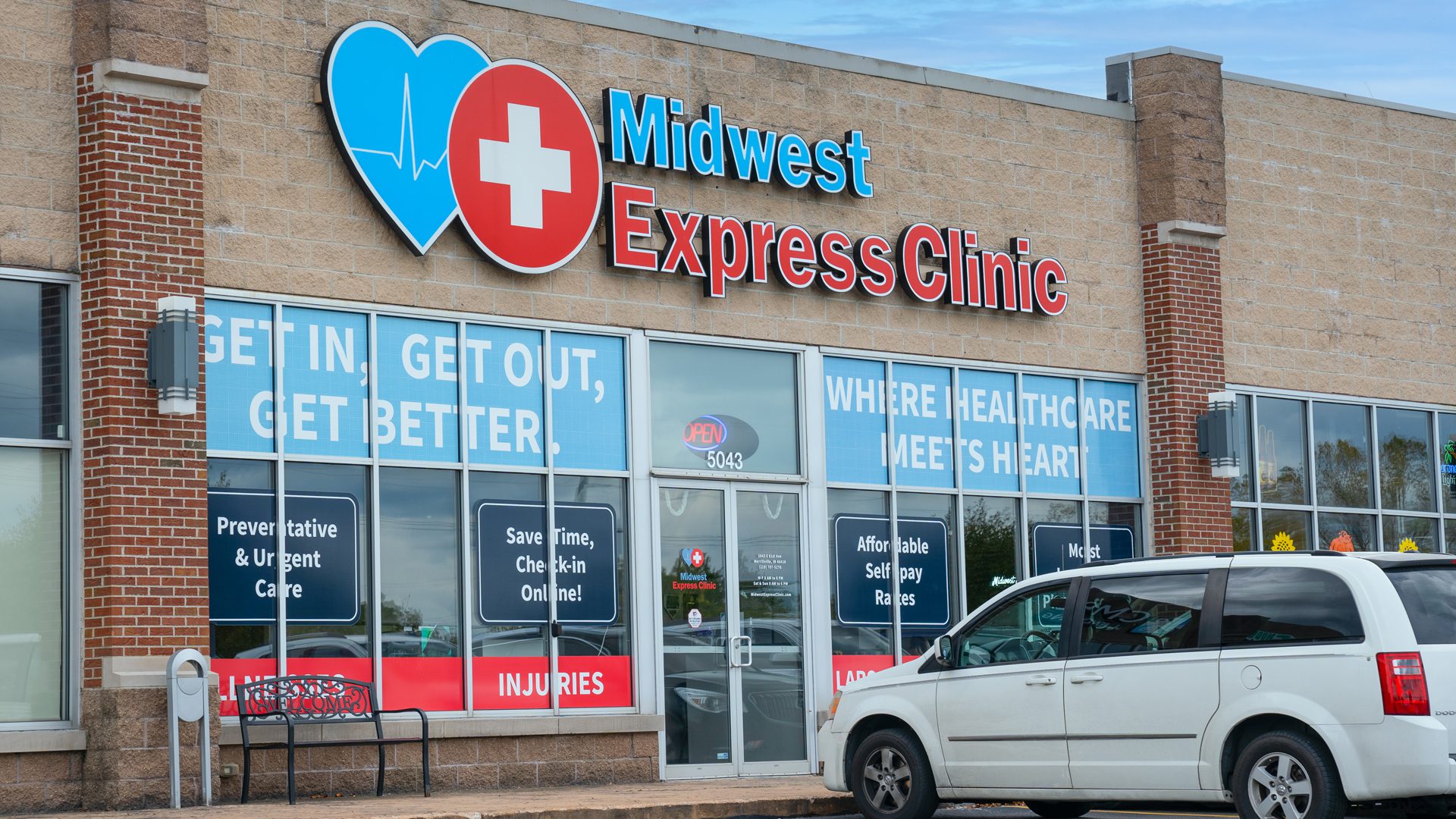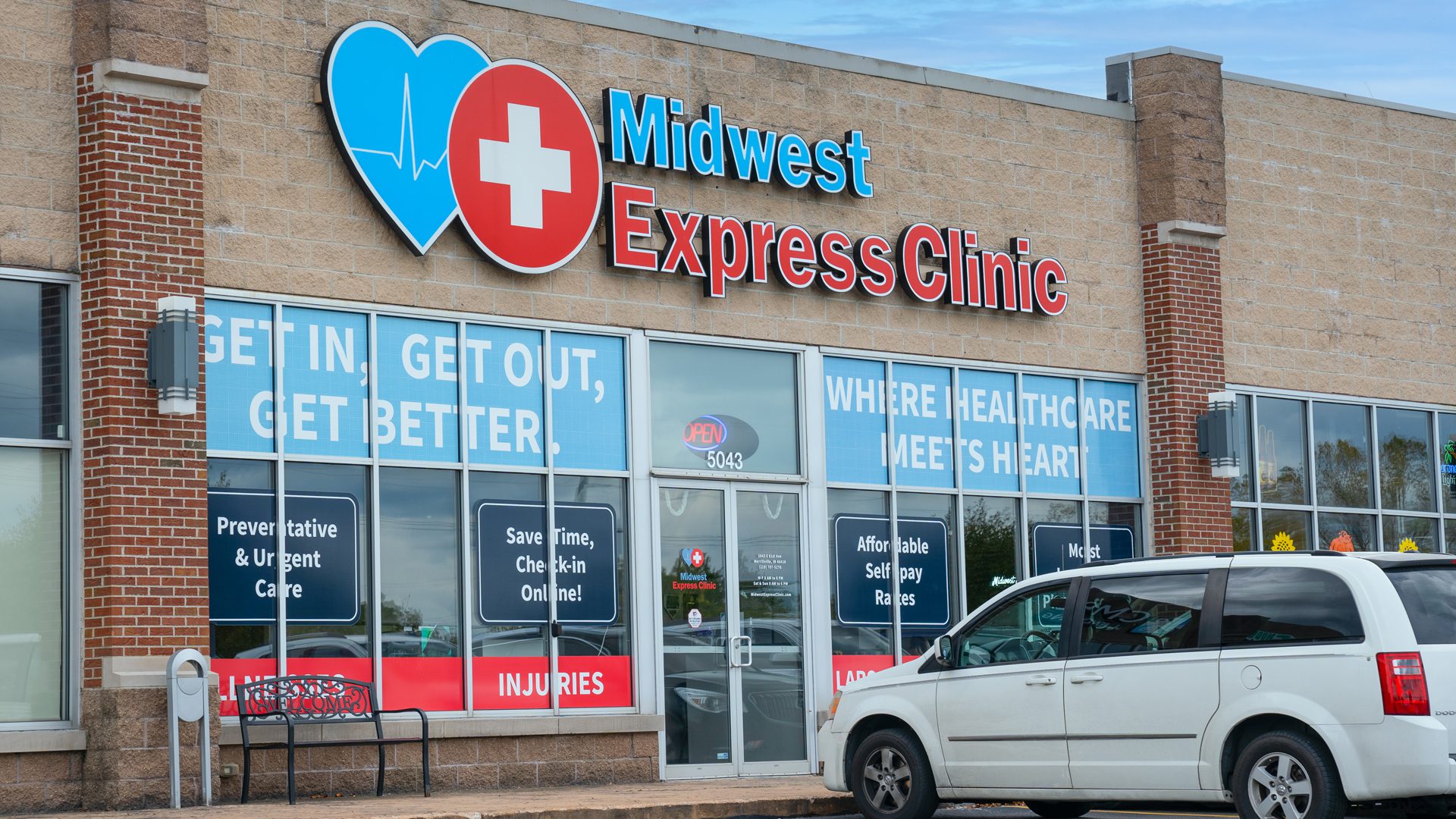 Hours
8:00 am – 8:00 pm Monday-Friday
8:00 am – 6:00 pm Saturday-Sunday
Services
Abdominal Pain
Abscess & Cysts
Allergies
Asthma
Athlete's Foot
Biometric Screening
Bloodwork
Bronchitis & Pneumonia
Bug Bites
Burns
Cardiovascular Health
Cold & Cough
COVID-19
COVID-19 Antibody Testing
Cuts & Scrapes
Diabetes Care
Drug Testing
Ear Infections
Ear Irrigation
Fever
Flu Shots
Flu Treatment
Food Poisoning
Foreign Body Removal
Fractures & Dislocations
Functional Medicine
Hand, Foot, Mouth
Headaches & Migraines
Hemorrhoid Treatment
In-House Mono Test & Treatment
Jock Itch
Laceration Repair
Lipo-B Injections
Nausea, Vomiting, Diarrhea
Pap Smear
Pediatrics
Pink Eye
Pregnancy Testing
Prep Treatment
Preoperative Clearance Examination
Rashes
Rapid Strep
Respiratory Syncytial Virus (RSV)
School, Sports, & Camp Physicals
Skin Tag Removal
Sore Throat
Sprains & Strains
STD Testing
Tetanus Vaccines
Tick Removal
Tuberculosis Testing
Upper Respiratory Infection
Urinary Tract Infection
VA Urgent Care Provider
Vitamin B-12 Injections
Wart Removal
Wellness & Employment Physicals
X-Rays
Payment
Affordable and Quality Care: Midwest Express Clinic offers accessible healthcare for all, whether insured or not. Our clinics combine the efficiency of urgent care with the attentiveness of primary care.
Self-Pay Patients: We recognize not everyone has insurance. Thus, we provide affordable self-pay rates for all services. Inquire at the reception for specifics.
Patients with Insurance: Bring your insurance card and a valid ID. We bill insurance directly. The co-pay depends on your plan. If you have secondary insurance, ensure you bring those details too.
Accepted Insurance: We have a comprehensive list of insurances we accept, including specific Medicaid plans and workers comp insurances. View our full accepted insurance list. If unsure, call your insurance provider or contact us. HMO Plan holders should verify with their insurers.
Not Accepted: Exclusions include Department of Labor, MDWise, St Catherine's/St Margaret's, CountyCare, BCBS anthem HMO, BCBS Community options (only seen in Illinois), and out-of-state Medicaid other than IL/IN.
For a complete list of accepted insurance, please visit our "accepted insurance" page.
Learn how to know the difference between ailments that can be treated at MEC and what requires emergency attention.
Your Health.
Our Commitment.
Right in Merrillville.
Midwest Express Clinic urgent care is here for the Merrillville, Indiana community with excellent medical care from experienced, understanding providers. Visit us for everything from pediatrics or women's care to on-site x-rays and diagnostics, lab testing, and more. We accept most major insurances including Medicaid, Cigna, Medicare, United Health Care, and others. We truly enjoy helping the residents of Merrillville and having the opportunity to provide healthcare with heart.
Proud members of the Merrillville community
We are a proud member of the Merrillville community! We've had the honor of sponsoring the Hoosier Vet Fest at Riverview Park honoring our veterans and the St. Jude House event at the Railcats game supporting domestic violence victims. In addition, our team has volunteered and sponsored the Foodbank of NWI throughout the years. The community and NWI Times have given us the honor of being voted Best Urgent Care for four consecutive years: 2020, 2021, 2022 and 2023.
Frequently Asked Questions
Do you take walk-ins?
Yes, we do, we're open 7 days a week. Our hours of operation are Monday - Friday 8 am - 8 pm and Saturday and Sunday from 8 am - 6 pm.
How long is the wait?
Typical wait time varies depending on locations, most patients are in and out within an hour.
Where are you located?
We have 35+ convenient locations throughout Chicagoland and Northwest Indiana.
What are your hours of operation?
We're open 7 days a week. Our hours of operation are Monday - Friday 8 am - 8 pm and Saturday and Sunday from 8 am - 6 pm.
Do I need an appointment?
No, but we do suggest you check-in online to save you time when you arrive at the clinic.
What insurance do you accept?
We accept a wide range of insurance, to view a full list of accepted insurance, click here.
What services do you offer?
We offer 65+ services that range from pediatric care to flu testing. For more information check out our services page.
Do you offer COVID testing?
Yes, we do, for additional information, check out our COVID page.
What pediatric services do you offer?
We offer a variety of services for our pediatric services, they include and are not limited to allergy relief, cold and cough, rashes, hand, foot, and mouth, and school and sports physicals. For a full list of pediatric services, click here.
Can I come into the clinic without an appointment?
Yes, you can walk-ins are welcome at any time Monday - Friday between 8 am and 8 pm and Saturday and Sunday between 8 am - 6 pm.
How do I get to your clinic?
We offer directions to all 35+ locations, you can access them on our locations page by clicking on the location you're looking for. For a full list of locations, click here.
Sharon Nowden
The customer service there is superb! It's the type of treatment you need when in any type of medical facility. From the moment I called until the moment I left, I was treated with care. The young lady at the front desk made my 5yr feel extremely comfortable and the nurse practitioner showed sincere concern with my son's issue. I look forward to returning!

Latisha Robinson
Everyone was very pleasant and polite. We were greeted upon entry. Wait time was not longer than 5 minutes. I love the customer service. Even with exchanges of rooms because of what my grand baby needed. The wait time was amazing. I love that we were able to get in and out. The nurses were also pleasant and open to what we needed. Great job.  

Tamara
I love coming here for my whole family. The service is quick, but the visit with the doctor is not rushed. The office is always clean. All of the doctors are great, especially Dr. Jenn Sellers. She is amazing because of her thoroughness and warm demeanor. We appreciate her for taking care of us every time.

Merrillville, IN Midwest Express Clinic Urgent Care:
5043 E 81st Ave, Merrillville, IN 46410 (Directions)
With convenient hours: (Check In Now) From 8:00 am – 8:00 pm Monday-Friday

and

8:00 am – 6:00 pm Saturday-Sunday

.
For assistance over the phone: please call us at 219-707-5276.
Merrillville Local Resources: