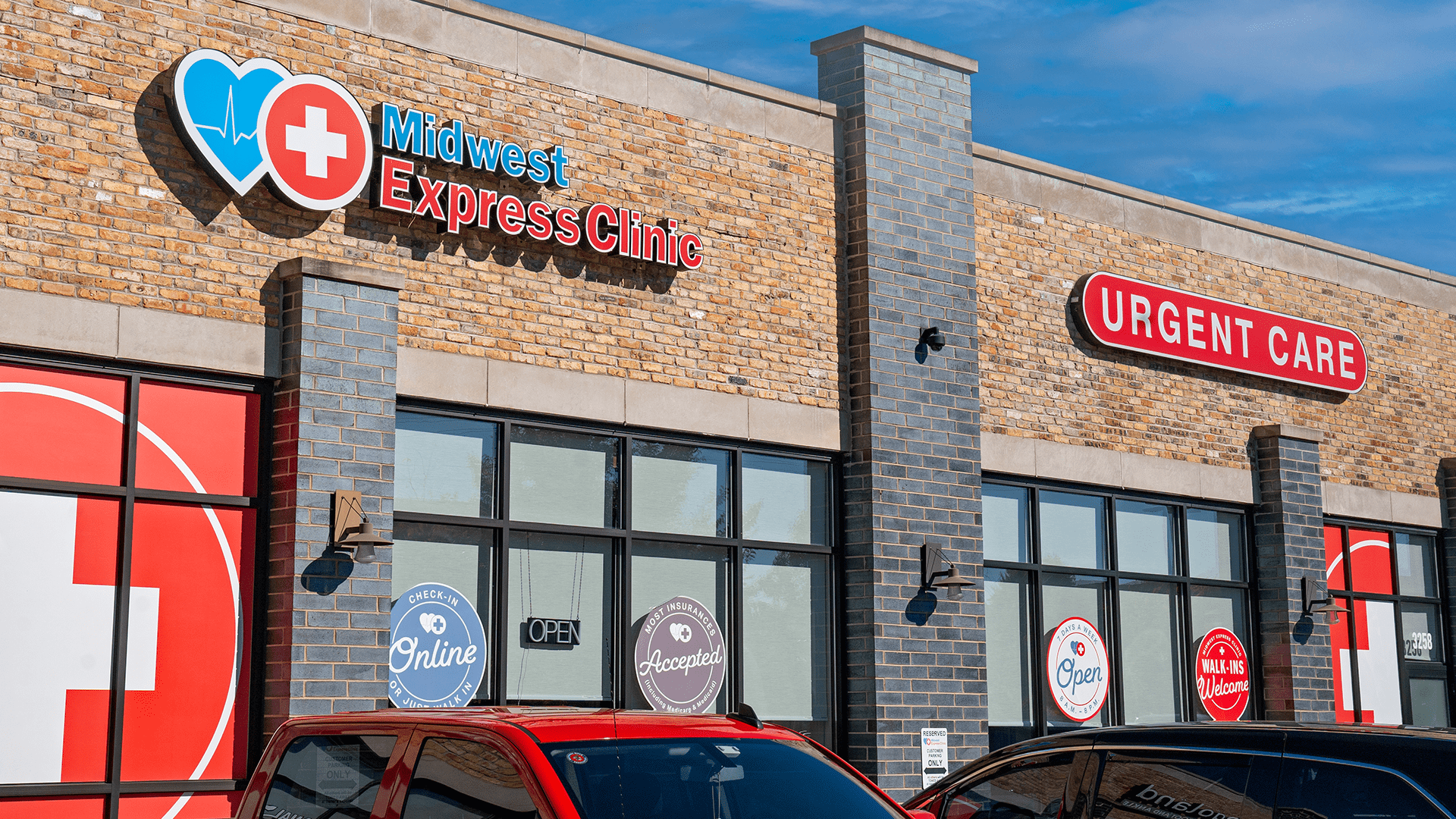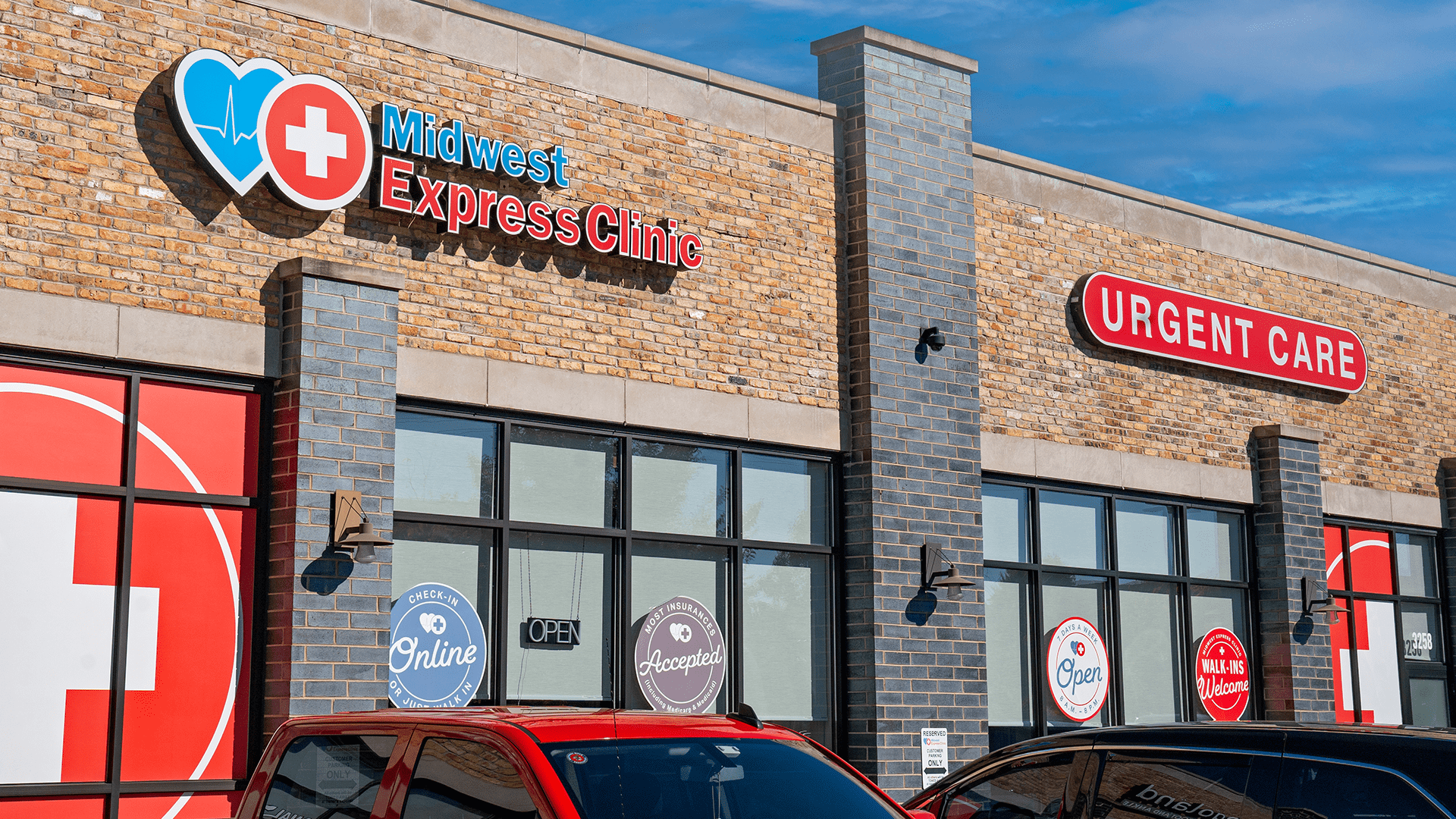 Hours
8:00 am – 8:00 pm Monday-Friday
8:00 am – 6:00 pm Saturday-Sunday
Services
3D/4D Ultrasounds (Please call ahead for an appointment or complete the ultrasound form.)
Abdominal Pain
Abscess & Cysts
Allergies
Asthma
Athlete's Foot
Biometric Screening
Bloodwork
Bronchitis & Pneumonia
Bug Bites
Burns
Cardiovascular Health
Cold & Cough
COVID-19
COVID-19 Antibody Testing
Cuts & Scrapes
Diabetes Care
Drug Testing
Ear Infections
Ear Irrigation
Fever
Flu Shots
Flu Treatment
Food Poisoning
Foreign Body Removal
Fractures & Dislocations
Functional Medicine
Gender Reveal Ultrasounds (Please call ahead for an appointment or complete the ultrasound form.)
Hand, Foot, Mouth
Headaches & Migraines
Hemorrhoid Treatment
In-House Mono Test & Treatment
Jock Itch
Laceration Repair
Lipo-B Injections
Nausea, Vomiting, Diarrhea
Pap Smear
Pediatrics
Pink Eye
Pregnancy Testing
Prep Treatment
Preoperative Clearance Examination
Rashes
Rapid Strep
Respiratory Syncytial Virus (RSV)
School, Sports, & Camp Physicals
Skin Tag Removal
Sore Throat
Sprains & Strains
STD Testing
Tetanus Vaccines
Tick Removal
Tuberculosis Testing
Ultrasounds (Please call ahead for an appointment or complete the ultrasound form.)
Upper Respiratory Infection
Urinary Tract Infection
VA Urgent Care Provider
Vitamin B-12 Injections
Wart Removal
Wellness & Employment Physicals
X-Rays
Payment
Affordable and Quality Care: Midwest Express Clinic offers accessible healthcare for all, whether insured or not. Our clinics combine the efficiency of urgent care with the attentiveness of primary care.
Self-Pay Patients: We recognize not everyone has insurance. Thus, we provide affordable self-pay rates for all services. Inquire at the reception for specifics.
Patients with Insurance: Bring your insurance card and a valid ID. We bill insurance directly. The co-pay depends on your plan. If you have secondary insurance, ensure you bring those details too.
Accepted Insurance: We have a comprehensive list of insurances we accept, including specific Medicaid plans and workers comp insurances. View our full accepted insurance list. If unsure, call your insurance provider or contact us. HMO Plan holders should verify with their insurers.
Not Accepted: We don't accept Department of Labor, BCBS anthem HMO, and out-of-state Medicaid other than IL.
For a complete list of accepted insurance, please visit our "accepted insurance" page.
Learn how to know the difference between ailments that can be treated at MEC and what requires emergency attention.
Your Health.
Our Commitment.
Right in Mt. Greenwood.
At Midwest Express Clinic urgent care, we are proud to provide excellent, immediate medical care to the residents of Mt. Greenwood and Chicago, Illinois. Our experienced providers truly enjoy helping the community, whether you need treatment for non-emergency illnesses or injuries, on-site lab testing, bug bite treatment, or any of our other health services. We accept most major insurances including Medicaid, Cigna, Medicare, United Health Care, and more.
To experience true healthcare with heart, visit us in Mt. Greenwood today.
Ultrasounds are available at the Mt. Greenwood Midwest Express Clinic location. Please call ahead for an appointment or complete the ultrasound form. 
Frequently Asked Questions
Do you take walk-ins?
Yes, we do, we're open 7 days a week. Our hours of operation are Monday - Friday 8 am - 8 pm and Saturday and Sunday from 8 am - 6 pm.
How long is the wait?
Typical wait time varies depending on locations, most patients are in and out within an hour.
Where are you located?
We have 35+ convenient locations throughout Chicagoland and Northwest Indiana.
What are your hours of operation?
We're open 7 days a week. Our hours of operation are Monday - Friday 8 am - 8 pm and Saturday and Sunday from 8 am - 6 pm.
Do I need an appointment?
No, but we do suggest you check-in online to save you time when you arrive at the clinic.
What insurance do you accept?
We accept a wide range of insurance, to view a full list of accepted insurance, click here.
What services do you offer?
We offer 65+ services that range from pediatric care to flu testing. For more information check out our services page.
Do you offer COVID testing?
Yes, we do, for additional information, check out our COVID page.
What pediatric services do you offer?
We offer a variety of services for our pediatric services, they include and are not limited to allergy relief, cold and cough, rashes, hand, foot, and mouth, and school and sports physicals. For a full list of pediatric services, click here.
Can I come into the clinic without an appointment?
Yes, you can walk-ins are welcome at any time Monday - Friday between 8 am and 8 pm and Saturday and Sunday between 8 am - 6 pm.
How do I get to your clinic?
We offer directions to all 35+ locations, you can access them on our locations page by clicking on the location you're looking for. For a full list of locations, click here.

Georgia Williams
Went to another Urgent Care but the wait was two hours. Called Midwest Express, got in quickly and all services needed were performed in under one hour. The staff was friendly and through. The triage nurse explained what each procedure was for and I felt very relaxed. The doctor asked a lot of questions and did several test before determining my issue. Medication was subscribed but I was given the OPTION of taking it or not. That's unusual for doctors to give you options. This will be my Urgent Care facility going forward.
P.S. While at home the other Urgent Care facility called to see if I still want to come in. I said, No, I'm home relaxing now.


Crystal Cotton
The staff was professional and courteous. The turnaround time is a no nonsense experience. The practitioner listen carefully to me and responded to my concerns, I was satisfied with my visit to this clinic I will be going back there if I have to and I will recommend this site to family and friends..


Carolyn McNeil
George and the other staff were awesome. I called to check the status of availability. I came in and had initial contact with medical staff within 15 minutes. George the Advanced Degree Nurse Practioner gave me a thorough examination. I was out of there shortly after. I'm improving already. Thank you Midwest Express Clinic for your care.

Proud members of the Mt. Greenwood community
We care for the community in Mt. Greenwood! Since opening, we have had the opportunity to support various events in the community that include:
MS Walk at Soldier Field (Multiple Sclerosis awareness)
Sonny Parker Unity Classic sponsorship (mentoring and empowerment in sports)
Edgewater volunteering with Care For Friends (meal preparation, hygiene supplies, and coordination)
Chicago Build Expo participation (Workplace Wellness program showcase in October 2023)
Mount Greenwood, Chicago, IL Midwest Express Clinic Urgent Care
3258 W 111th St, Chicago, IL 60655 (Directions)
With convenient hours (Check In Now) from 8:00 am – 8:00 pm Monday-Friday

and

8:00 am – 6:00 pm Saturday-Sunday

.
For assistance over the phone: please call us at 773-629-8217.
Mt. Greenwood Local Resources:
Chicago Local Resources: