Midwest Express Clinic Now Open In Merrillville, IN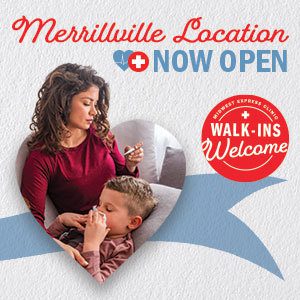 Midwest Express Clinic is excited to announce the opening of our newest urgent care in Merrillville, Indiana! Our staff of medical professionals are ready to provide the patients in Merrillville with the care they deserve.
At Midwest Express Clinic, we treat injuries and illnesses that are urgent, but not emergent. From family care and pediatrics to women's health, physicals, x-rays, lab work and more, we provide convenient, quality care when you need it. As a walk-in clinic, no appointment is necessary, but we do offer convenient online check-in to save your spot in line, minimizing your wait. We accept most major insurance plans, including Medicaid, Cigna, Medicare, and United Health Care, as well as offer low self-pay rates for various procedures and services.
When you're sick or are simply in need of a routine exam, don't visit the emergency room or wait for weeks to get an appointment at a doctor's office. In fact, the typical co-pay and total cost for a visit at Midwest Express Clinic is significantly less than a visit to the ER.
Visit us today at our new location in Merrillville, Indiana! Come see why Express is our middle name.