Is It A Boy or Girl? Gender Reveal Ultrasounds at Midwest Express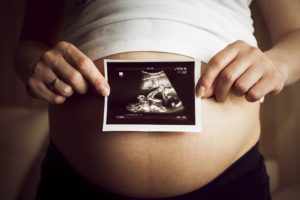 Finding out the sex of your baby is an emotional and exciting time during your pregnancy. If you're like most people, you can't wait to know if there will be a little girl or boy running around your house in the near future. Whether it's for planning considerations or just old fashioned curiosity, Midwest Express Clinic wants you to experience the joy of gender reveal ultrasounds at select locations. Please view our Gender Reveal ultrasound page for current hours and locations.
Old Wives' Tales
Before modern technology brought us ultrasounds, there were plenty of unique ways to try and determine the sex of your baby while pregnant. There are dozens of gender predictors and old wives' tales that have persisted through time that claim to predict whether you're carrying a boy or girl. Huggies® compiled a list of some of these classic old wives' tales.
Are you carrying high? If so, you're having a girl. Are you carrying low, it's a boy!
If you're craving sweets, you're expecting a girl, and craving salty foods means you're having a boy.
Have you had morning sickness? One old wives' tale says that this means it's a girl!
We all know that sympathy pains are real. Is your partner putting on weight during your pregnancy? Get ready for a little girl.
The ancient Chinese and Mayans believed that if your age and the year you conceived are both even or both odd, you're having a girl. If one is even and the other is odd, you're having a boy.
Tie a ring to a piece of string and hang it over your belly. If it swings in a circle, it's a boy, and if it swings back and forth, it's a girl.
Find Out Your Baby's Gender
Unfortunately, old wives' tales are just myths. One scientifically accurate way to know the gender of your baby during pregnancy is with an ultrasound gender reveal. Doctors can begin to distinguish between the sexes in an ultrasound scan by around 14-16 weeks of pregnancy. One study in 2014 showed that when a determination can be made, ultrasounds were 91% accurate (between 11 and 14 weeks). Success rates only increased thereafter.
Midwest Express Clinics offer ultrasounds to determine the gender of your baby starting at 14 weeks of pregnancy at select locations. Click here for more information on preparing for your ultrasound or schedule an appointment by calling Midwest Express Clinic today.
These ultrasounds normally cost $50 out of pocket. Please subscribe to our newsletter for promotional offers!