Clean out your closet and help your community – West Loop Midwest Express Clinic hosts clothing drive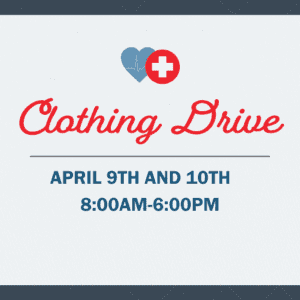 Spring is upon us which means it's time for spring-cleaning. This year, take a tip from the organizing guru herself, Marie Kondo, and start the process by going through your clothes. After you've purged your family's closets, put those unwanted, gently used clothes to good use in your community by donating them.
Tips for organizing your clothes
If the task of decluttering your clothes seems daunting, use these tips to help you get started and follow through.
Put every piece of clothing you own in a pile. No matter what it is or where it's located, put all of your clothing into one central location. This allows you to see exactly how much you own.
Go through the giant clothing pile you've created item by item. Touch each piece and hold it up while asking yourself if you will wear it in the next year. Organize into keep, donate, or maybe piles. Limit the maybe pile to 10 items or fewer and try them all on before making a final decision.
Put all the keep items away. Try some space-saving folding techniques to help keep your clothes organized for the long run. Donate the remaining items to help the less fortunate in your community.
Why donate?
Sanitary clothing is an essential aspect of health and overall well-being. People who are experiencing financial difficulties and homelessness may have a difficult time obtaining clothes that are clean and in good condition. Often their only option is to wear soiled clothing that makes them more vulnerable to certain illnesses.
Not only is their physical health at risk but their mental health as well. What someone wears has a huge impact on how they see themselves and how others treat them. Simply wearing clean clothes that fit their body and style can improve self-esteem and opportunities of those who are struggling.
By donating to clothing drives like the one Midwest Express Clinic's West Loop location is holding, you can give the people in Chicago's underserved population a better chance at a more comfortable and healthy life.
Details of the clothing drive
When: April 9 and 10 from 8:00am to 6:00pm
Where: 779 W Adams Street, Chicago, IL 60661
Instructions: Due to construction on Adams Street, enter through the Walgreens parking lot and follow signs for Midwest Express Clinic. There will be volunteers there to help unload your car.
Contact the team at the Midwest Express Clinic West Loop Location with any questions.