Dealing With Pandemic Stress in a Healthy Way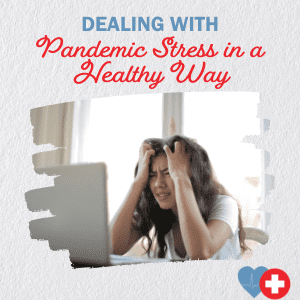 Learning how to cope with everyday stress has always been important, but with the addition of the coronavirus pandemic, it can feel overwhelming. Adding together the sudden change in typical lifestyle, fear and anxiety of the unknown, and feelings of isolation is enough to make even the most relaxed of individuals experience some level of stress. Thankfully, there are healthy ways you can minimize your pandemic stress and promote your mental wellbeing.
Why the Pandemic Feels So Difficult
Although your event calendar may have opened up quite a bit this year, dealing with a pandemic brings its own stressors. According to the Centers for Disease Control and Prevention (CDC), people can experience pandemic stress due to a variety of causes, including:
Fear and anxiety because COVID-19 is a new disease with many unknowns surrounding what may happen if you or a loved one becomes infected
Feelings of isolation or loneliness due to necessary public health actions like social distancing
Of course, the level of stress you experience may be different than those around you. Your stress response is dependent upon your background, social support system, financial situation, health and emotional background, your community, and more. However, some of the groups that may experience more pandemic stress include:
Those at higher risk of severe illness from COVID-19
Children and teens
Individuals acting as caregivers for family members or loved ones
Frontline and essential workers
People experiencing a major change in employment, such as job loss or a reduction in hours
People who live in group settings
What Does Pandemic Stress Look Like?
Stress can affect our minds and our bodies in a variety of ways. If you or a loved one is experiencing any of the following, it may be thanks to pandemic stress:
Changes in sleep or eating patterns
Difficulty sleeping or concentrating
Worsening of existing chronic health problems
Worsening of mental health conditions
An increase in tobacco, alcohol, or other substance use
You may also be feeling more fear and worry about the health of yourself and your loved ones, your job or financial situation, or the potential loss of the support services you may rely on.
Healthy Ways to Deal with Pandemic Stress
While there are many healthy ways to deal with stress in general, handling pandemic stress may require a more unique approach with specific tactics.
Know what to do or where to go if you get sick with COVID-19. One of the best ways to minimize worry or anxiety is to be prepared with knowledge on what to do if you do become infected. You should also be aware of where you should go if you may require treatment, or how you can access other support services you may need. No one wants to think about getting sick, but it's better to have the information before rather than trying to figure out what to do if it does happen.
Take care of your emotional and mental health. Taking care of your emotional health helps ensure that you can think clearly and react appropriately to any urgent needs of yourself and your family. You should also give your emotions and mind a break from news and social media as repeated mention of the pandemic may be upsetting. Try not to watch, read, or listen to any news for a bit and simply focus on your life and needs. Also, give yourself some time each day to unwind and do other activities you enjoy.
Take care of your physical health. Your body can feel the negative effects of stress, too. Try to regularly practice deep breathing, stretching, or meditation; eat healthy, well-balanced meals and avoid any excessive alcohol and drug use; get plenty of sleep every night; and do your best to exercise regularly.
Stay connected and be open with others. It may feel too difficult to keep up with friends or family thanks to social distancing orders, but try to connect through phone calls or video chats when possible. Talk about your concerns and feelings with those you trust – don't keep everything bottled up. If you are part of a community or faith-based organization, stay connected online, on social media, by phone, or through the mail.
If your feelings of stress or anxiety are interfering with your daily life on a regular basis, contact your healthcare provider. You may be referred for counseling to help work through your concerns, or prescribed medication to help manage symptoms.
The coronavirus pandemic has been difficult on many people throughout the United States and the world. Don't let the pandemic stress get in the way of your day-to-day life. Visit any of our convenient Midwest Express Clinic locations today for help.
Think you may have the coronavirus? Call us to discuss your symptoms and we can schedule you for safe testing.