Midwest Express Clinic's Delia Vallee and Melissa Conover Discuss Their Journey With Surrogacy and Friendship
Originally published by Allison Tunstall on nwi.life on May 11, 2021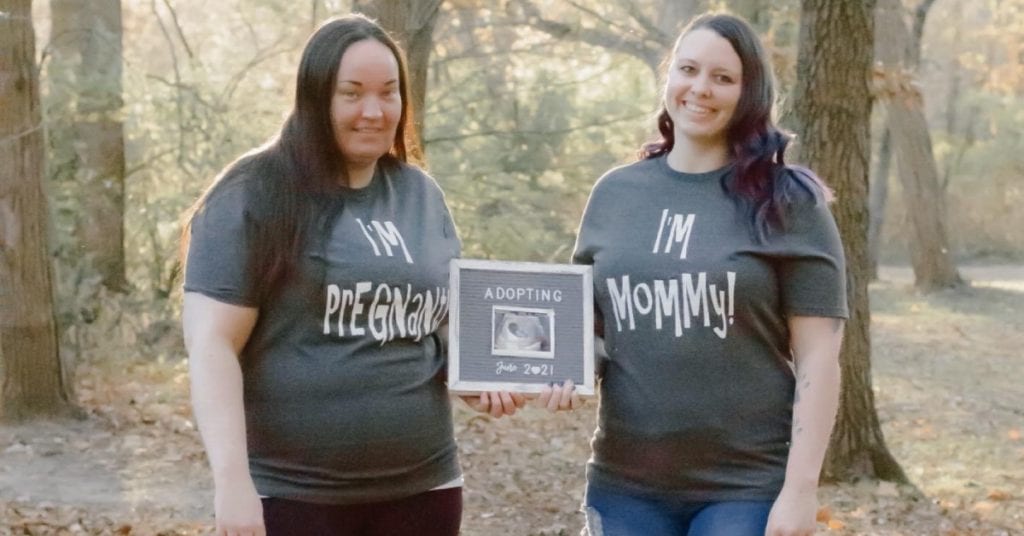 Melissa Conover never thought motherhood would be in the picture for her. After two miscarriages and a broken engagement, Conover, Midwest Express Clinic Operational Resource, went through a rough period as life around her began to change abruptly.
"I never tried to get pregnant again," Conover said. "It was just too hurtful."
Thankfully, Conover wasn't alone. Right by her side was Delia Vallee, a Radiology Technologist and Team Resource for Midwest Express Clinic, who Conover had grown close to ever since they first met almost four years ago during a job interview.
"[Conover] was actually the person who interviewed me when I applied at Midwest Express Clinic," Vallee said. "Right away, I just knew there was a connection between the two of us; I knew I wanted to be friends with this person."
At the same time Conover dealt with the aftermath of the end of her engagement and two miscarriages, Vallee was going through a divorce. With two daughters of her own, Vallee found comfort in her coworker-turned-best-friend.
Over the years, the duo has grown closer and closer, experiencing difficult, exciting, and life-changing moments together. They understood each other's wants, needs, and goals in life.
"We became so close, and she got me through a lot of hard times personally and I did the same for her," Conover said.
Vallee emphasized how similar their lives were, remarking how the similarities were almost scary.
"It was almost like we were living the same life, but just a little bit different," Vallee said. "So based on that, we went to each other a lot because we knew the other person would understand. I don't have family in this area, so we became so incredibly close. She's been my rock, and I've been her rock."
For Conover, she never gave up hope that one day she would become a mother.
"I remember a few years ago after [Vallee]'s divorce and the end of my relationship, we kind of had this inside joke between the two of us," Conover said. "We had been talking about children, and [Vallee] told me that if she ever got pregnant again, knowing how much I have always wanted to be a mother, she would want me to adopt the baby."
"I remember telling her that if I ever got pregnant again, which I didn't have any intention of doing, I would help her have a family," Vallee said. "I've watched her struggle; miscarriage is not an easy thing for a woman to go through."
It wasn't until eight months ago that the inside joke took on a serious tone. Vallee called Conover with some surprising news, sharing that she was pregnant with her third child.
"I called her and said, 'You're going to kill me,'" Vallee said with a small laugh. "I told her I was pregnant, and I had no idea what to do."
Together, she and Conover began to explore the different options Vallee had. She kept an open mind, weighing the pros and cons of keeping the child, adoption, and abortion. Vallee, who already had two young children, wasn't sure if she was ready for another child. She knew in this case she had to make a decision that would be best for not only her family, but also herself.
"I already had two kids, and after my second one, I told myself I was done, that two kids were perfect," Vallee said. "I wanted to watch them grow up and be there for them."
Vallee ultimately decided to have an abortion. While she could financially be able to raise three kids as a single mother, Vallee knew that mentally and physically she was not something she could viably do.
"The day I scheduled the abortion, I was talking to [Conover] and was wondering where I was going to find the money for the abortion, because it was like $500," Vallee said. "I just kept saying that I couldn't have another baby, and [Conover] was there telling me that she would be there for me, she would help out."
Vallee spent another day debating her options when she suddenly stopped and knew what she had to do.
"I asked myself, 'What are you doing?'" Vallee said. "You have a best friend who has been your rock for four years through a lot of things, and you have the opportunity to give her something that she's been aching for. So I called her and I said, 'I can't do this, I can't have an abortion.'"
Vallee's and Conover's similar lives and similar outlooks lead to a life-changing phone call. As if on the same wavelength, Conover brought up another option.
"I said, 'I'll adopt the baby,'" Conover said.
From there, Conover called her mom to have a discussion she never thought she would have. Later that day, Conover called Vallee with her decision.
"I'll never forget what she said to me," Vallee said. "'Looks like we're having a baby.'"
Now a month out from the baby's due date at the beginning of June, Vallee and Conover have been preparing for the baby's arrival. They hosted a baby shower, have had long discussions of what motherhood entails, and, of course, what this means for the duo and the baby boy they're having.
"[Vallee] has been so incredible during this experience," Conover said. "Since she already has two children of her own, she's taught me so much about motherhood and what to expect once the baby arrives. She's been an angel for me and my entire family, giving me this wonderful gift."
Vallee and Conover have both gone through their share of uncertainty during the pregnancy.
"At times, it can be difficult, because it sometimes hasn't sunk in that I'm a mom," Conover continued. "I have all the stuff, I've had the baby shower, I've seen the pictures and the ultrasounds, but it sometimes doesn't occur to me yet that I'm a mom."
"Everything is going to change for her," Vallee said. "She will be getting up every night, every two hours; her life is going to completely change, which can be a scary thing. But I'm going to be right there supporting her just like she has always done for me."
"I've gone through my emotions, but I sometimes wonder if I can really do this," Vallee said. "Can I really give up a child? But knowing that I'm doing this for [Conover], that I'm giving her this incredible opportunity and that I'm going to be a part of the kid's life reassures me that we're making the right decision."
Vallee and Conover have experienced an incredible amount of support from their coworkers from Midwest Express Clinic. Conover remarked how the focus on family and community has culminated in a culture of support, understanding, and just pure excitement for what this baby means for Vallee and Conover.
"They saw what both [Vallee] and I had gone through in the past, and they have always been supportive and caring," Conover said. "That hasn't changed with the pregnancy and our situation. We have coworkers who are just as thrilled for us as our families are—it almost feels like this is a Midwest Express Clinic baby, too."
"Everyone at Midwest Express Clinic has been so amazing during this journey," Vallee said. "My coworkers and bosses will tell me that we can go to them if we need anything after the baby is born. They've given us great suggestions and recommendations for after the baby is born, and completely support and love our decision to be open with the child about the adoption process."
From the start, the duo wanted the adoption to be completely legitimate as they began the process. Conover and Vallee have decided honesty is the best possible option for them as they navigate the tricky world of adoption, knowing their situation is a unique one.
"In my doctor's entire career, he has only seen two or three other women choose to be surrogates," Vallee said. "Not many people choose to be a surrogate, which is essentially what our situation is. He stressed how special and important what we're doing is, considering not many women would choose to do it in the first place."
Conover and Vallee have decided that they will be open and honest with the child about the adoption and who Vallee is.
"He will have family, he will have two half-siblings that he deserves to know and have a relationship with," Vallee said. "We want to be open about this experience, because it's really a beautiful thing."
Despite some difficulties due to COVID-19, which has prevented Conover from being in all of Vallee's doctor's appointments, the past eight months have been incredible for the pair, tightening their already strong bond as they begin to enter this new chapter of their lives together.
"We've done the ultrasounds together, and she updates me on all of the baby's appointments," Conover said. "It's such a cool journey that we've been on together."
"[Vallee] recently sent me a video of the baby's heartbeat," Conover said, a calm excitement in her voice as she looks forward to the beginning of June. "His name will be Kelbee Reece."
For more information about Midwest Express Clinic, visit their website at https://midwestexpressclinic.com/.