How to Prevent the Cold and Flu at Home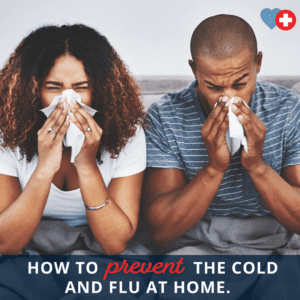 Your home is your safe place. At least, it should be. While the outside world is dangerous and filled with germs, your home should be the place you can relax and stay safe. However, germs can spread even in your home. When one family member gets sick, everyone can get sick.
By practicing these simple tips, everyone in your family can stay safe this cold and flu season.
1. Get the flu shot
Flu shots help mitigate the worst symptoms of the virus and help stop the spread both inside and outside your home. A new flu shot comes out every year that helps protect against the influenza viruses that researchers believe will be most common the upcoming winter season.
There are different types of flu shots and each one is recommended for different age groups, according to the CDC. Still have questions? Midwest Express Clinic's very own Dr. Adam Del Conte breaks down the myths and facts of the flu.
If you're ready to get the shot, check in online at any of Midwest Express Clinic's locations.
2. Stop touching your face
One of the most difficult things to do seems like the simplest: Stop touching your face. With the amount of germs on phone screens, keyboards and other objects, it's important to be mindful of how many times you touch your face.
One study showed that the average person touches their face 23 times per hour. By lowering that number, you can prevent germs from being passed from your phone or other surfaces to you.
3. Create a checklist of touched areas
Some places in your home are touched more than others. Your TV screen probably is not touched as much as your bathroom door handle. It's important to regularly wipe down these high-traffic areas with a disinfectant wipe (pick one that contains 60% ethanol or 70% isopropanol) multiple times per week. Creating a checklist and keeping it somewhere visible will help remind you to clean these areas.
To get started, here are some potential areas for germs:
Coffee maker
Fridge, stove and microwave handles
Makeup bag
Toothbrushes
Faucets
Remote controls, keyboards and phone screens
Door knobs
Keys and wallet
The No. 1 thing you can do to protect yourself is get the flu shot. After that, start practicing healthy hygiene habits and frequently cleaning high-traffic areas of your home. If someone in your family does get the flu, don't worry. Simply keep that person at home, preferably separated in their own space to limit the spread of the virus.
Of course, Midwest Express Clinic is ready to help you and your family. If you have questions, concerns, or need treatment during this upcoming cold and flu season, check-in online at one of our locations.