April is Move More Month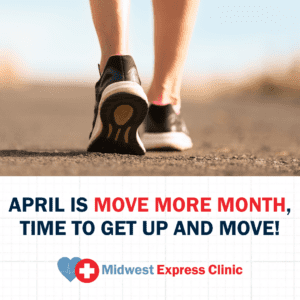 According to the American Heart Association, almost half of American adults are not active enough to be healthy. The guidelines set by the World Health Organization (WHO) suggest that adults get at least 150 minutes of aerobic activity each week. To many adults, this may seem daunting, so the American Heart Association decided to help promote physical fitness and declare April to be Move More Month.
What is Move More Month?
The American Heart Association (AHA) recognized a growing problem among American adults: we just aren't moving enough. With their Move More Month campaign, Americans are encouraged to find ways to move their bodies throughout the week by making small lifestyle changes. The AHA provides excellent resources including free workout videos, literature and encouraging tips on how to sneak in exercise throughout the day.
How Can You Participate?
Join the movement and set some new goals for yourself and your family. Make it a game to incorporate movement into each day. What are some new habits you can form to just move more? What activities do you enjoy? Here are a few ideas to get you started:
Take a walk after dinner each evening
Try an on-demand fitness class
See how many days in a row you can reach 10,000 steps
Play outside with your children or pets
Have a dance party with your family (or alone!)
Do squats or lunges during a long business call
Being physically active doesn't have to be all or nothing. Making small changes are baby steps toward an active lifestyle that promotes a healthy body and mind. If you're concerned about your health, it's always a good idea to consult a doctor before starting a new exercise program. Contact us here at Midwest Express Clinic with any questions and visit one of our convenient area locations for all of your health needs.