Don't Skip Your Child's Sports Physical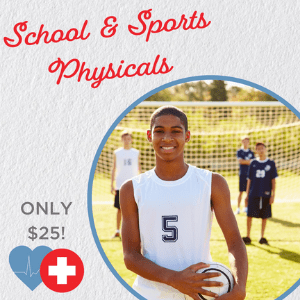 Fall sports are a large part of many kids' lives. Unfortunately, the coronavirus pandemic has disrupted the normal high school sports schedule for those in Illinois and Indiana. Some sports may be shifting into different seasons later in the year, while others are continuing as usual with more safety precautions in place. Regardless of whether your child's sport is moving forward, or there's a potential delay, it's essential to have a sports physical on file for the school year.
Why Does my Child Need a Sports Physical?
Having a sports physical performed prior to the start of each season helps to ensure the child's body is up to the challenge. Much like a typical physical exam, these allow the doctor to identify potential health problems that could interfere or worsen with participation in the sport. While both the sports physical and the regular wellness physical review many of the same things, the sports physical will be more focused on how the child's health is in relation to the chosen physical activity. The doctor may also be able to suggest some training tips if the student athlete is returning after a recent injury.
Can the Results of a Sports Physical Prevent my Child from Participating?
A concern for some parents and student athletes may be that the doctor will discover an issue that could delay or prevent the child's ability to participate. Sometimes, the doctor performing the physical will require the child to see a specialist before giving the "okay" for your child to participate, but don't take that as the physician saying your child will never be able to play. Other tests or follow-up exams are typically used to rule out anything potentially more serious, or to determine if a previous test was accurate. Being referred to a specialist may also prove beneficial for the child; for example, if she is experiencing pain in one of her shoulders during a golf swing, being evaluated by an orthopedic or sports medicine specialist may prevent a worsening problem by identifying the issue or helping improve swing technique. Of course, should there be a serious concern, it's important to remember that your child's health and safety is the top priority.
Where Should I go for my Child's Sports Physical?
Your child's pediatrician can perform a yearly sports physical, but you may have to wait for an appointment that works with your schedule. At Midwest Express Clinic, we offer comprehensive sports physicals at all of our convenient locations with no appointment necessary, meaning you can stop in when it works for your family. Be sure to bring your child's physical form with you for our medical professionals to complete and sign. If your child's fall sport is starting, or you want to be prepared for training, stop in today.