Food Allergy Tips for School Functions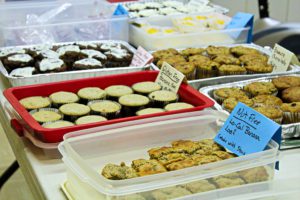 When your child brings home a note from school requesting you provide snacks for an event, it can be somewhat daunting, not just in regards to the time and money it requires, but ensuring it is a treat that everyone can enjoy. Even if your child has no food allergies, chances are fairly high that at least one in the class does, so decisions over ingredients must be made carefully. Thankfully, there are simple ways to ensure everyone is involved safely.
Discuss Guidelines with the Teacher or School Administration
If the school did not provide the information at the beginning of the year, reach out to your child's teacher or school administration. They may have guidelines you need to follow, whether treats need to be store-bought only, or may be homemade with specific ingredients omitted. Sometimes, a list of approved foods may be provided, making the job of snack provider easier.
For those that are allowed to bring in homemade treats, there are great recipes available that are nut-free, and some that are gluten-free, dairy-free, and egg-free. They are sure to be delicious for those with allergies and even those without!
Avoid Food Altogether if Possible
Depending on the event, you may be able to bring in fun alternatives that aren't consumable. Of course, this may not work for things like a bake sale, but if it is your child's birthday, for instance, rather than bringing in food, put together some fun party bags with a small toy or fun school-friendly items. Halloween can be celebrated with fun trinkets like glow sticks, vampire teeth, and more. As with anything brought into the school, though, be sure to discuss these options with the teacher to avoid disrupting the normal school day.
You Don't Need an Event to Think about Food
Do you pack your child's lunch every day? Some schools may have specific rules against bringing potential allergens, like peanut butter, but if they don't, make sure your child is aware of the dangers their own food could pose to others. Encourage them to learn about their fellow students and, if they make a new friend who is allergic, work together to make a more conscious decision about what is packed daily, or instruct them to avoid sitting next to one another during mealtimes when they may be exposed.
Teach your child to avoid sharing or swapping food with others, as an unknown ingredient in some foods may cause an allergic reaction. If they do know of others with allergies, be kind to them and respect their space in the cafeteria and elsewhere by not bringing any unapproved foods within close proximity.
Food allergies can be a life-threatening condition and should not be taken lightly. While it can feel frustrating to have to accommodate specific dietary needs, understand that it is not simply driven by preference but by safety. Keeping open communication with your child's school will help make any future snack days easy to plan in ways that will make everyone in the classroom happy.
For more tips on how to handle food allergies at your child's school, contact us today.