Importance of Women's Health Services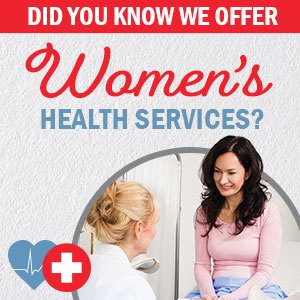 Women have made their mark in history around the world, changing perceptions of what they're capable of and helping advance equality. Many women show a dedication to helping others, whether they are scientists, civil rights leaders, mathematicians, or mothers. While admirable, it can easily lead to neglecting her own health and well-being. At Midwest Express Clinic, we are here to help women take control of their health care by providing accessible, comprehensive women's health services at all of our area locations.
Why Women's Health Care Is Vital
Ensuring women receive essential health care is important for a variety of reasons. Women have a unique set of health care challenges and are at higher risk of developing certain conditions and diseases than men. The leading causes of death for women include heart disease, cancer, and diabetes, all of which could potentially be treated or prevented if identified early enough. Those who wish to become mothers also have pregnancy to think about, which can present its own health risks to both the woman and the baby, making prenatal and postnatal care important.
Accessing Women's Health Services
Because of the unique health concerns women face, it can feel as though you need countless doctor appointments just to cover it all. At Midwest Express Clinic, we make women's health care easy with convenient walk-in hours and a large variety of services at all of our locations. Women are encouraged to visit us for:
Whether you want to be healthy for your family, for your job, or for yourself, our professional medical staff is here to help. Our services are accessible to everyone, and we accept many different insurances and Medicaid. We also offer low self-pay rates for those who need it.
Ladies, it's time to put yourself first and take control of your health. Visit us today!