On the Road Again: 7 Tips for Safe Post-Pandemic Travel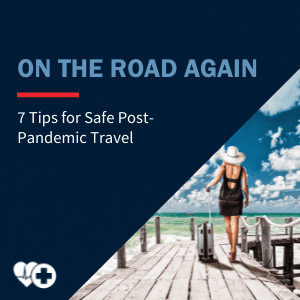 Chances are, you've done the smart, not to mention conscientious thing and protected yourself, your family and your community by getting fully vaccinated against Covid-19. And by doing so, you've quite literally opened a world of possibilities, travel foremost among them. Staycations, for all their family-bonding blessings, are over-rated, and it's time to embrace your wanderlust.
Nevertheless, times have changed, and our new, highly fluid post-pandemic normal calls for travel precautions to ensure a safe, genuinely invigorating trip. To paraphrase Antoine de St. Exubery, "She who would travel happily must travel light — and listen to the experts (like the Centers for Disease Control) when it comes to staying safe as the country and much of the world reopen.
1. Fly the Heath-friendly, Upgraded Skies
In addition to the added space, better cuisine and other amenities associated with first or business class, upgraded plane seating offers a host of post (or nearly post) Covid-19 health benefits. Not only will you and your travel companions be better socially distanced from other travelers, you'll be deplaning first, further reducing your exposure to other passengers.
2. Exercise Your Rights to Accommodation Privacy
There's a lot to be said for the comradery that comes with meeting new people in resorts, hostels and hotels. For now though, there's even more to be said for limiting contact with the unacquainted by booking private accommodation. Vrbo, Airbnb, and FlipKey, to name a few travel sites, offer well-vetted homes, cottages and apartments that keep you far from the potentially unvaccinated crowd.
3. Rent Peace of Mind. Rent a Car.
Truth be told, booking a rental car isn't as easy as it used to be. Covid-19 hit the industry hard and rental companies pared their fleets. Inventories are down, demand is up and bargains are tough to come by. Still, those who plan ahead and are willing to pay the price will reap the benefits that come with avoiding problematic and often crowded subways, taxis and coaches.
4. Explore the Great Outdoors
Nothing against the cultural riches available in the world's great cities, but now may be the time to experience the breathtaking beauty of nature. America's national parks or state parks, campgrounds and beaches all offer uncrowded, low risk options for fresh air and family-oriented fun. As always, booking as early as possible is key; folks who previously talked about getting back to nature are taking action and campsites are booking fast.
5. Schedule (Relative) Seclusion
Physical distancing remains, of course, the surest way to protect yourself and others. It follows that you may want to postpone that cruise, crowded music festival or fan-packed sports stadium. But even those intent on visiting the world's great cities and their cultural experiences can reduce their risk by scheduling tours and guided excursions during off-peak hours or dates.
6. Insure a Great Time
Travel insurance isn't particularly cheap. And like all insurance, it's something you hope you won't have to use. But if ever there was a time to get it, this is it. Illness, a possibility even if not Covid-related, could strike, and the country or area you plan to visit could lock down without warning. Once insured, you'll at least know your deposits and plane fare weren't wasted, and you can always travel another day.
7. Vacation Close to Home
Henry David Thoreau was no world traveler, but rightly insisted he was "well-traveled in his own backyard." So consider an out-of-the-house vacation close to home. It goes without saying that Chicago is our kind of town, just as Illinois and Indiana are our kind of states. So just because you're not going far doesn't mean you can't get away. Should any health issues arise, you'll be close to your home base, and since you're familiar with the territory, it will be easier to stay current with local safety guidelines, closures and emerging availabilities.
Another advantage to vacationing close to home is staying close to the caring professionals at Midwest Express Clinic. Whatever your wellness calls for, from Covid-19 antibody testing to physicals, we provide a full range of chronic and preventive care designed to keep you healthy and ready for every opportunity life has to offer. Visit one of our locations today, and we'll have you hitting the road in robust good health.