Back to School Physicals at Midwest Express Clinic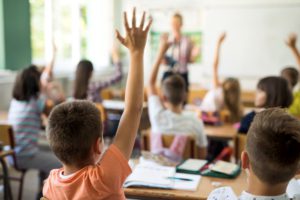 The start of a new school year is almost here, and, more than likely, you've already been preparing – fitting in that last family vacation, shopping for supplies, and getting your kids re-accustomed to a daily schedule. In these last few weeks of break, it's easy to forget the essentials, and if you haven't gotten your child a back-to-school physical, you may find yourself scrambling for a last-minute appointment. Make it an easy task to cross off the list and bring your child to Midwest Express Clinic!
Depending on your child's age or extracurricular activities, there may be certain requirements for returning, such as vaccinations or a sports physical. Not only that, but having a yearly back-to-school physical helps to ensure proper development of the child's various body systems, and could even help identify underlying issues that may require treatment. This is also a great time to discuss any other health concerns you may have noticed with your child, such as frequent complaints of pain or digestive issues, anxiety or depression, or even previous learning difficulties.
To get the most out of your child's physical, come prepared to the visit with any questions or concerns that may have been on your mind all summer. Knowing the status of your child's current health will allow both you and your child to feel more confident going into the new school year. Be sure to bring any required school paperwork with you for the physician to fill out and sign.
If your child still needs a back-to-school physical, we are here to make it easy. We offer convenient locations and hours with no appointment necessary. Still worried about wait time? No need because with our helpful virtual check-in tool, you can save your spot in line before you even arrive. Start the school year off right and rest assured that your child will receive great care and attention from everyone on our team.