March is National Nutrition Month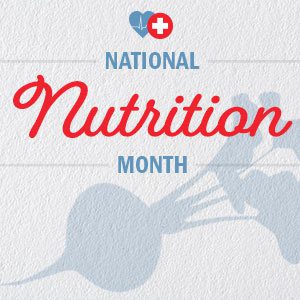 There are many facets to overall health, but none are as important as proper nutrition. Every March, the Academy of Nutrition and Dietetics brings awareness to the importance of a healthy diet with National Nutrition Month®. For 2020, the theme is "Eat Right, Bite by Bite," with a focus on making small changes that will end up being beneficial to your health in the long run.
How to Start Improving Your Nutrition
Sometimes, diets can be overwhelming. Even thinking about them can be stressful, particularly if they require you to stick to a fairly restricted list of options. Rethinking your approach can go a long way towards better nutrition. Start small with simple goals and changes, like maybe replacing the chips you usually eat at lunch with fresh vegetables instead. Making it easy for yourself will better set you up for success.
Some other suggestions include:
Adding more variety to your diet. It's easy to get into a habit of the same unhealthy foods over and over again, especially if you're always busy. Mix it up a bit by adding a variety of healthy foods – choose some exciting new fruits and vegetables, grab some healthy nut mixes for a snack, and more. Take some time to explore the produce section of your favorite grocery store and try something new.
Start meal planning regularly. When you plan ahead, you're more likely to succeed. Take some time each week to sit down and plan out your meals for the week ahead. This will make grocery shopping more efficient, and you'll be more likely to stick to your nutrition plan rather than simply grabbing what's easy.
Prep and cook ahead of time. Just like meal planning, having your food prepped and even cooked ahead will help you meet your nutritional goals. Plan time in a day that works for you to cook and package your meals so you can easily take what you need for the day without having to stress.
Talk to a registered dietitian nutritionist. We all could use a little extra help from time-to-time. Don't be afraid to seek out the advice of a registered dietitian nutritionist. They will be able to help you create meal plans, provide dietary suggestions that fit your lifestyle, and educate you on the necessary nutrition you need based on your health and activities.
Encourage Others to Eat Healthy
To celebrate National Nutrition Month®, you can also help encourage others to eat healthier with you. After all, dieting and making healthier choices is often much easier when others do it with you. Find healthy, family-friendly recipes to make at home. When you and your coworkers decide to go out for lunch, suggest visiting a more nutritious restaurant instead of the usual burger joint. Teach your children how to read nutrition labels and what they should look for.
Get started making small, healthy changes to your diet today. Remember, though, that diet is only a part of your overall health. Visit an area Midwest Express Clinic location today for a comprehensive wellness exam to ensure your nutritional journey starts off on the right foot.