Safe COVID Practices for Your Holiday Party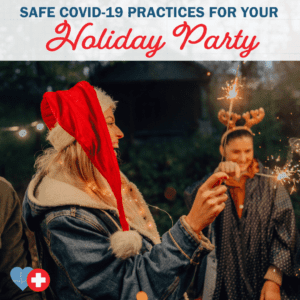 The holidays are upon us. Of course, just like last year, the celebrations may look a little different.
Many people will be attending or hosting holiday parties, spending time with family and friends they may not have seen in a while. But COVID is still something to think about. If we are gathering together, it's crucial to do it safely. Here are tips to keep parties as safe as possible this holiday season.
Take your party outside
While it may not seem like fun to have a holiday party outside, spending time together outdoors is much safer than being indoors, making your party less risky and less stressful for everyone involved.
There are many ways to keep your guests warm during the party, including:
Renting a heater and/or tent.
Lighting a bonfire (or two).
Taking your holiday spirit even further with hot cider, fleece pajamas or giant wool blankets.
Of course, sometimes it's impossible to be outside in the winter. If your party must be indoors, kick a door slightly open or throw open the windows so the air can easily flow. You can also create a DIY air purifier by attaching store-bought filters to box fans.
Skip the buffet
Many buffets have shut their doors during the pandemic and for good reason. People touching the same surface over and over again is a recipe for spreading germs. If you want to throw a holiday party, skipping the buffet may be your best bet.
Cook, prepare and set the table for each individual rather than letting everyone get their own food. Also, make sure to divide snacks into individual portions. No one wants to see multiple people sticking their hands in one bowl of candy or chips.
Get tested beforehand
Testing is available almost everywhere and is the best way to create peace of mind before your party. This way, you're making sure that you are protecting yourself and the people you love attending your holiday bash.
It is up to you whether or not you want to require testing for all your guests, but getting tested yourself sets the precedent of safety for your guests. Midwest Express Clinic offers COVID-19 PCR nasal swab and rapid testing. Results are returned within 30 minutes to two full days depending on the test. Check in online at your nearest location for peace of mind.
Remember that going virtual may be the best option
The only way to be 100% safe during the holiday season is not hosting or attending parties. No matter how many precautions you have, the best option may be to go virtual. While that may sound boring, virtual parties can be shaken up with Netflix viewing parties, gingerbread competitions or other holiday-themed games. While it isn't fun missing out on seeing family, it's important to remember that we can still be connected while minimizing risks.
Attending and hosting holiday parties this year can be safe. You may have to spend more time outside or get tested beforehand, but there are ways to make sure you and your guests are stopping the spread of COVID. If you need to get tested for COVID or simply have questions for a provider, check in online at one of our convenient locations.