Winter Skin Issues: What to Treat at Home & When to See a Doctor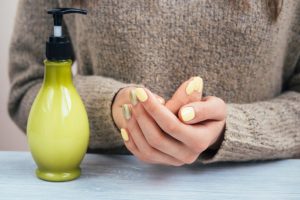 The cold temperatures mixed with the heat indoors can wreak havoc on your skin. This combination can make your skin feel uncomfortably tight and itchy, which can, for some, lead to flaking, painful cracking and eczema. For some, dry skin can be treated with moisturizing lotion purchased from the drug store, but for many others, this issue can best be handled with the assistance of a doctor or dermatologist. These tips from WebMD will help your skin make it through the winter:
Start with a Specialist. Even if you have what you perceive as simply dry skin, finding the right lotion to help bring relief can be difficult. Seeing an esthetician or dermatologist will help you determine the right treatment for your skin and could potentially point out issues with your current regimen that may be making it worse. While some more expensive options may be brought to your attention, it is important to remember that there are affordable options that work just as well, so be sure to discuss recommended options from the drug store shelves.
Moisturize! While this point may seem obvious, it's important to note that when the weather changes, so should your skin care routine. The dry skin of winter needs much more care than spring and summer, so oil-based moisturizers that act more like ointment will help to heal as well as protect your skin from the harsh elements. For use on your face, however, be sure to select an appropriate lotion, as some body lotions will be too heavy and will clog pores.
Keep Applying Sunscreen. While you may not be sunbathing on a snowbank, the sun mixed with snow glare can still cause damage to your skin. As an added bonus to the protection, the smell may have you thinking happy, warm-weather thoughts!
Take Care of Your Hands. The skin on hands is thinner with fewer oil glands, making them more susceptible to itching and cracking. Protect them from the cold by wearing gloves. If you wear wool gloves, be sure to wear thin cotton beneath to avoid any further irritation from the material.
Change Wet Gloves and Socks. Maybe you wore the wrong shoes and slush made their way in, or you were outside playing with the kids in the snow – whatever the case may be, change out of the wet stuff as soon as possible. The cold moisture can dry your skin even further, causing itching, cracking, sores and eczema.
Run a Humidifier. When the heat kicks on at home or the office, moisture gets dried up. Running a humidifier will help keep the moisture in your home, protecting your skin and can also help you breathe more comfortably.
Use Deep Moisturizer on Feet. Many of the lotions available for feet are best used in the summer months, but in winter, your feet need a bit more help. Lotions that contain petroleum jelly or glycerine, such as Vaseline, are best, and exfoliating your feet will help the moisturizer work more effectively.
Avoid Frequent Peels. If you've made peels or other harsher skin treatments part of your regular beauty regimen, try to keep them to a minimum during the winter. Stripping away the oils from your skin will only dry out your skin further, requiring a much stronger fix in order to alleviate discomfort.
Skip Hot Baths and Showers. Taking a nice, hot bath or shower can feel great in the moment to warm up, but they can actually break down your skin, causing you to lose even more moisture. The best advice is to simply make the water warm and keep the time to a minimum.
If you have tried remedies at home without getting results, your dry skin may require a prescription strength solution, or you may have a condition that requires a different type of treatment. If you are concerned about the condition of your skin this winter, contact us today.