Holiday Health Myths & Facts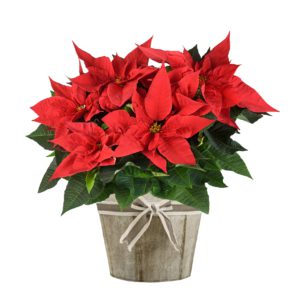 With the holidays come many new cautions regarding health and safety, from poinsettias to jet lag and hangover cures. But are they all really true? You'll be surprised at what has been found as fact vs. fiction:
Are Poinsettias Dangerous? While these plants do have some low toxicity, they have never caused significant illness or death in children or pets. Essentially, a 50 pound child would need to eat around 500 leaves to get very sick, and with the reportedly bad taste of these plants, that would be highly unlikely to occur. Of course, should you have any concerns if a child does consume any, it is never a bad idea to contact the Poison Control Center.
Will my holiday eating habits cause me to gain weight? Unfortunately, this is true. The most weight gain people experience is the period from Thanksgiving through New Year, but on average, the gain is slightly less than 2 pounds, so don't stress too much. Just stick to your normal eating routine as much as possible to avoid anything more significant.
Does the suicide rate increase? Fortunately, the suicide rate is the lowest in December, mainly due to people having more support this time of year. However, this does not mean it does not happen. If you or a loved one need support, contact the Suicide Prevention Lifeline right away.
This extra sugar is making my kids hyper! Sugar is easy to blame when kids begin acting hyper during the holidays, but studies have shown that it isn't the culprit in effecting children's behavior. The hyperactivity can mainly be blamed by the excitement of the event and the fact that the usual routine has changed. While allowing your kids to have some special holiday treats won't change their behavior, you may still want to limit the excess sugar simply for health reasons (and to avoid any late-night tummy troubles).
Am I more at risk of falling or experiencing a fire? Take caution because this is in fact true. People fall more around the holidays from ladders and roofs while decorating the house, and fires occur more thanks to all those beautiful, holiday-scented candles. Always take necessary safety precautions when working at any height, and be sure to keep candles away from things that can easily catch fire, such as curtains or seasonal décor. Also, don't forget to blow out the flame if you are leaving or going to bed.
Are heart attacks more common around the holidays? Yes, for those with heart disease or other significant risk factors, heart attacks around the holidays are more common. There are several reasons this could be, from cold weather increasing blood pressure, to eating more high fat and salty foods. If you are at risk, be sure to continue watching what you eat, exercising, getting enough sleep, and keep stress to a minimum.
Should I avoid driving on New Year's Eve? A common misconception is that New Year's Eve is the most dangerous holiday to drive, but studies have shown the holidays with the most vehicle-related fatalities are the 4th of July and Thanksgiving. Of course, any holiday that has more travel involved is going to come with an elevated risk for accidents, so try to plan trips when less people will be on the road and be sure to pay attention to weather conditions.
Can I cure my hangover? If you've hit the holiday parties a little too hard, you may be looking for a cure all the following morning. Unfortunately, many of the common "cures" are myths. The only way to definitely avoid a hangover is of course not consuming alcohol, but if it's too late for that, concentrate on rehydrating and eating a good breakfast.
Can I just sleep off my jet lag? If you've travelled somewhere for the holidays that disrupts your usual circadian rhythm, jet lag can be difficult to deal with. Sleeping for a long period of time will not help, but according to the National Sleep Foundation, there are ways you can minimize its effects. Try to fly into your destination in the early evening and stay up until 10 p.m. local time. Avoid alcohol and caffeine three to four hours prior to bedtime. During the day, get outside as sunlight will help your body adjust naturally. If you still need a nap in the afternoon, make sure it lasts no more than 2 hours (set an alarm if necessary).
The holidays are a joyous time of year, but can cause stress and present new challenges for many. Being aware of the different myths and facts can help to alleviate those thoughts you may have in the back of your mind, but will also help you become aware of where you may be at risk.
If you have any questions or concerns about your health over this holiday season, contact us today.