Tips For A Safe Halloween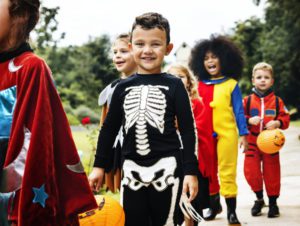 Halloween is a great way for kids of all ages to dress up and scare up a little fun as they go from house to house and make new memories. Be prepared by reviewing some essential Halloween safety tips to help protect your little ghosts and goblins from any unwanted surprises.
Create a safe costume
Picking the right look is what matters to your kids, especially when the goal is to collect the most treats. Whether you decide on buying a costume or making one, keep Halloween safety top-of-mind.
Use makeup instead of masks. Even if a mask is made for kids, it can slip, limiting vision, and become a hazard. Go for a custom look with face paint or makeup. Test it first on a small area to check for any allergic reactions. Remember to remove it before bedtime to avoid any skin or eye irritation.
Check for fit and fire-resistance. Clothing and accessories, like shoes or hats, need to properly fit to help avoid tripping or injury. Also, make sure costumes and wigs are clearly marked as being flame-resistant.
Add reflective tape. Even if you plan to be outside during the early evening, use reflective tape or stickers on costumes and treat bags to be easily seen by drivers and other people.
Be aware of traffic
Follow the same safety rules about being outside on Halloween as you normally would. If you're going out as a group, everyone should stay together at a steady pace. Walk on sidewalks or along the far side of the street and cross only at crosswalks or at corners – looking both ways. Since most people are outside between 5:30 and 9:30 p.m., keep flashlights on and glow sticks out as it gets darker to alert oncoming cars.
Enjoy treats responsibly
Collecting a heavy bag of goodies is the ultimate Halloween goal for your kids. Be sure to take steps to have a healthy celebration, too.
Discourage eating along the way. At home, check all treats and throw out food that is unwrapped or looks suspicious.
Be aware of food allergies. Read ingredient labels carefully and remove anything harmful.
Choose non-food options. Look for festive, inexpensive items like crayons, coloring books and novelty toys.
Midwest Express Clinic wishes you and your family a safe and healthy Halloween. We are here to offer urgent care if you or someone in your family experiences an injury or an allergic reaction at a convenient location near you.